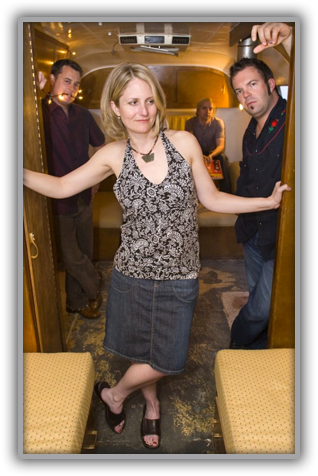 She's Pilar French, a singer, a songwriter and a multi-instrumentalist as comfortable playing solo with an acoustic guitar in an intimate setting as she is rocking out with her band on a festival or club stage. And Pilar is never content to limit what she's singing about…be it lost love, human perseverance, or politics.

She's a deep mix of styles and insights. Funny, brainy, sexy, articulate and precise with a desire for serendipity. "I do use music to show my emotions but I also try to write thought-evoking music. Maybe you read the lyrics and you think it's about something totally different than I do. Maybe it's intel-rock-tual. A thinking person's music. If you want something you can marinade on, you can listen to multiple times and discover something different every time you listen to it…that's what my music is."

She has lived in Portland for twenty years, having gone to college in Chicago and coming from deep Midwestern roots. "I am completely influenced by blues. It's the root, a fundamental musical style and it pervades my music but I'm inspired by a lot of different musicians."

In Portland she joined a number of bluesy, funky bands including Soul Patrol Mission. Swerve, a six-piece blues band took up the next two years. She played with singer Kate Mann and worked with singer Lara Michell from Stolen Sweets and Dirty Martini. Pilar joined Michell and Nicole Campbell in "Guilty Pleasures and One Hit Wonders." Pilar has played bass in several other bands.

She released the album Butterflies in 2007, Alive in 2009, and Deliver in 2011. "Deliver was inspired by the happier things in life—it focuses on what we have, not what we don't have. The music is noticeably upbeat and at our shows, kids find themselves compelled to dance. This is ironic to me, because I was thinking of the children in my life when I wrote some of the songs."

Although she performs solo, she maintains a working band, which currently features Jeff Koch (Jake Oken-berg, Beautiful Train Wrecks), Bevan Hurd (Kerosene Dream; the Very Foundation) on drums, and sometimes Joshua Slamp and sometimes Sean "the Shag" Nowland on bass. Pilar is currently working on her fourth cd release.
About Pilar | The Players | Photos | Videos