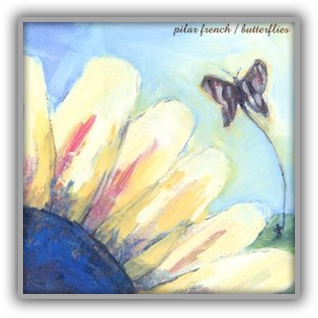 "Butterflies may be her first solo album, but years of playing in various — and varied — outfits have given Portlander Pilar French a confidence and polish that can't be faked." - Portland Tribune




Butterflies is Pilar French's first solo studio album, recorded and released in 2007.
You can purchase Deliver from the following online stores:



Produced by Pilar French and Rob Stroup

Pilar French - Vocals, Rhythm Guitar
Amanda & Jenni Price - Background Vocals
Todd Aschoff - Bass
Robert PeArt - Lead Guitar
Bevan - Drums
Chris Robley - Keys
Jeff Baxter - Keys
Dan Adlaf - Trumpet

Recorded and mixed by Rob Stroup at 8 Ball Studio, Portland, OR
Mastered by Matt Shultz at SuperDigital, Portland, OR
Album Art and Layout by Tammy Paladeni
Band Photos by Jason Quigley

All songs ©2007 Pilar French (BMI)



Click to enlarge...


Discography | Deliver | Alive | Butterflies | Booking Info